Our Mission
Inspiring Rhode Islanders to put ideas into action to better serve our collective needs.
 
Our Tenets
Local implementation partners: For any new effort to be sustainable, it has to have support and leadership from its users. Local partners in our projects ensure sustainability, local buy-in, and strong connection back to the needs of the user, always.

Non-traditional approaches: Paraphrasing Einstein: we can't do the same thing over-and-over and expect better results. To best meet the needs of RI residents, we employ new approaches to solve entrenched problems, from public-private partnerships to design challenges, to hack-a-thons.

MVP within six months: When piloting new solutions, time is the enemy, hurting momentum and morale. When scoping projects, we make sure to rapid prototype and create Minimum Viable Products in order to show value of the work immediately, not in five years.

Karen is serving as the Office of Innovation's Brown University AmeriCorps VISTA fellow. She works to support the CS4RI initiative, bringing computer science to all K-12 Rhode Island students and the ConnectRI initiative, which works to connect Rhode Island's under-served communities to the Internet and providing digital literacy training and connected devices. These are two issues Karen feels passionately about and supported in her previous work. Prior to joining VISTA, Karen spent 30 years in public education serving as a teacher, administrator, and technology coordinator. She holds a BS in Early Childhood Education from Bridgewater State College and Masters degrees in Special Education from Southern Connecticut University and Educational Technology from University of Hartford, as well as education administration certification through Johns Hopkins University.
Manager, Personalized Learning Initiative
Maureen joins the Office of Innovation with experience in policy and development. She previously served as Commissioner's Fellow at the Rhode Island Department of Education, focusing on public engagement for state implementation of the Every Student Succeeds Act (ESSA). Maureen also worked as a founding staff member at Mundo Verde Bilingual Public Charter School in Washington, D.C., where she held both instructional and administrative roles. She is a City Year D.C. AmeriCorps alumna, and a Returned Peace Corps Volunteer whose project work included youth development and English instruction in Guatemala. Maureen was a 2016-2017 Urban Education Fellow at Brown University. She holds an A.M. in Urban Education Policy from Brown and a bachelor's in linguistics from the University of Rochester.
Daniela comes to the Office of Innovation with 10 years of education experience, as a teacher, policy researcher, and advocate. Daniela started her career as a high school special education teacher in Boston, MA and most recently served as RI-CAN's director of strategy, creating and implementing community building efforts, campaign and organizational strategy, and other special-project initiatives. Prior to joining RI-CAN, Daniela has worked in leadership development for education advocates; for a national think tank as an education policy researcher and analyst; and for brief stints as an program evaluator in Burkina Faso and a janitor in France. She has also had the pleasure of serving as an urban public school rowing coach for six years. Daniela holds a BA from Tufts University in international relations and an MSEd from the University of Pennsylvania in international educational development, with a focus on educational access for marginalized youth.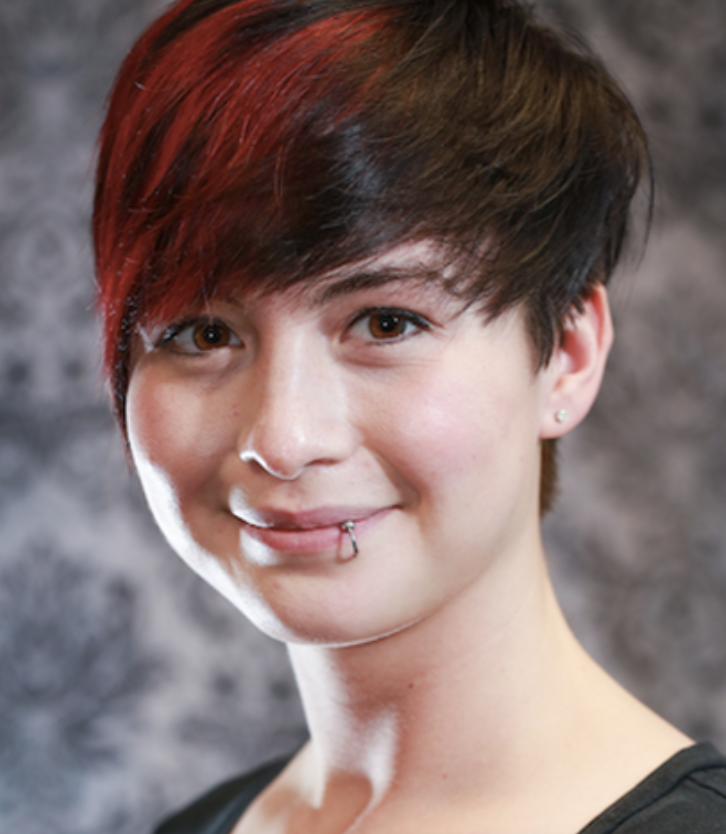 Desiree has joined the team with a background in science, data analysis, and public outreach. Her work supports the Office's Computer Science 4 Rhode Island (CS4RI) initiative, where she builds research pathways to ensure every student has equal access to computer science in their classrooms, no matter their race, ethnicity, or gender. Prior to joining the office, Desiree was a masters student at the University of Kansas where she spent her time researching butterfly genetics, and providing educational outreach experiences in science for K-12 students. Her passion for both science and education led her to her current pursuit of a PhD in Science Education and Society at the University of Rhode Island. Along with her PhD studies and work with the RI Office of Innovation, Desiree teaches undergraduate courses and serves as a research fellow at the RI Department of Education.
Digital Equity Research Fellow
Amy is an undergraduate at Brown University studying Applied Mathematics-Economics and Public Policy. At Brown, she is an instructor for the Taekwondo club and involved in leadership at the Undocumented, First-Generation and Low-Income Center (U-FLi Center). Originally from Hawaii, she cares deeply about understanding how marginalized communities are more intensely impacted by natural disasters, as well as working to combat the disparities she sees from housing and homelessness to education and college access. She is excited by the opportunity to work on the Office of Innovation's ConnectRI initiative to bring devices, digital literacy, and connectivity to under-resourced homes and communities.
Research & Evaluation Fellow
Elana Nelson, hailing all the way from Washington State, comes to the Office of Innovation from Brown University. There, she was a 2018 iProv Fellow and is currently studying Applied Mathematics and Economics. She has a deep passion for education reform, and has been involved with teaching and improving the learning of underrepresented students for several years. At the Office of Innovation, Elana's work focuses on supporting evaluation of personalized learning approaches in Rhode Island Lighthouse Schools.
Keith enters the Office of Innovation with 14 years experience in social work and education. He started his career as a primary care counselor for an adolescent substance abuse rehabilitation in RI. His passion for community-building resulted in two terms elected to Narragansett School Committee where he chaired the school system's Health & Wellness Committee, and championed hands-on learning programs as well as a successful public-private campaign to construct the Narragansett Community Athletic Complex. Keith is a co-founder of a startup company, The Abstract Athlete which merges Art & Athletics. His career focuses on developing relationships between Industry and Academia to excite the evolution of education. He also had the privilege of coaching track & field and cross country for the past 11 years in his hometown. He holds a BA from the University of Rhode Island in Psychology with a minor in Art and a Master's Degree in Innovation, from Virginia Commonwealth University's da Vinci Center with a concentration on Educational Innovation.
Andrea Russo is working with the Office of Innovation to provide computer science education and opportunities for Rhode Island schools. She joins the office with 15 years of promoting STEAM education in both formal and informal education setting. Prior to her role with TEALS and CS4RI, she served as a teacher educator in advocacy and partners with the National Council of Technological Literacy. Andrea has taught grades 6-12 in the largest school district in the country, NYC. While teaching, she received grants from the NY Academy of Science to implement best practices in STEAM. She has worked on curriculum development projects through the American Museum of Natural History and the NY Hall of Science in Queens, NY. Prior to her formal teaching, Andrea worked at the New York Botanical Garden in the continuing education department. Andrea holds a M.Ed. in Curriculum and Instruction in STEM and an M.S. in Science Education.
Jordan is from Atlanta, GA but has made a second home in Providence, where she studies Applied Math at Brown University. During the year, she tutors in Providence public school classrooms, inspired to give back after her own experience in the public school system. Working with these amazing kids motivated her to join the CS4RI team as a Data Fellow. During her time with the team, she aims to complete work that will help students gain better, more fair access to computer science education.
Join our Team
The Rhode Island Office of Innovation was launched in January 2016 as a governor's initiative--meant to support and accelerate sustainable innovation in Rhode Island's public systems. We are a small but mighty team, working across sectors--in education, digital equity, and state government--to help redefine how government can best leverage its bully pulpit, its convening power, and its leadership role to best support all Rhode Islanders. If you are a creative go-getter, self-motivated, and hard-working, have a love of Rhode Island and a keen problem-solving mind, we want to talk to you!
The RIOI encourages candidates with all diverse identities to apply--including race, ethnicity, sexual orientation, gender identity, national origin, religion, and veteran or disability status. The Rhode Island Office of Innovation is an equal opportunity proponent.
Current Openings